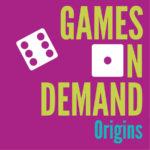 The Call for Volunteers is Now Open!
To all of our past volunteers and enthusiastic friends, we invite you to come join us and help run another excellent Origins Games on Demand! If you'd like to join us, please fill out the volunteer submission form by April 15th!
For those that haven't been before, the event will be hosting sessions of "indie" role-playing games in the Games on Demand room at the Origins Games Fair in Columbus, OH from June 14-18, 2017.